Top 5 | KS Games of February
This was a very difficult month, the games that ended their campaigns in February were really amazing! Space, zombies, cannibals, and coffee eventually won me over. I can only imagine what March will look like!
*** These are selected based on four factors for me***
The campaign ends by the time I write this post.
The look of the campaign.
My general excitement about the theme and/or mechanics.
Other random things like the journey of the creator etc.
So let's break down what I felt were the 5 best Kickstarter Games of February 2018!
You may HATE me for doing this, you may HATE this game, or you may HATE that it is number five on the list. You can't be surprised that I had to mention it though. There was so much controversy about the game. CMON did just fine with this one.
Funding Period: Jan 16 2018 - Feb 7 2018 (22 days)
Final Funds: $1,469,489 pledged of $200,000 goal
Backers: 10,227
Meeples with weapons, what more could you ask for in a zombie game? You want vehicles for them... sure have a motorcycle and a cop car. This game looks great with its Itemeeples. This game also included 5 different rules for play and definitely earned a spot on my top 5.
Funding Period: Jan 18 2018 - Feb 8 2018 (21 days)
Final Funds: $854,483 pledged of $15,000 goal
Backers: 23,425
3) Deja Vu: Fragments of Memory
I talked about this game before and everything stands true with me. The game has a mancala syle in play and I love games that are simple to learn and yet difficult to master. The theme of the nameless girl traversing the galaxies seeking her memory fragments and the art is beautiful and really won me over.
Funding Period: Jan 9 2018 - Feb 8 2018 (30 days)
Final Funds: HK$ 767,025 pledged of HK$ 60,000 goal
Backers: 1,721
I love the film Alien and the moment I saw Nemesis I knew I would be hooked. The miniatures look fantastic, each role has different missions to a victory thus creating a hybrid of cooperative and competitive play. You have to know when to go on your own, and this game isn't just about fighting the aliens, sometimes you need to run.
Funding Period: Jan 17 2018 - Feb 7 2018 (21 days)
Final Funds:£3,080,833 pledged of £50,000 goal
Backers: 30,553
I can't say this enough - this month brought out a lot of great games, but someone has to be my top choice...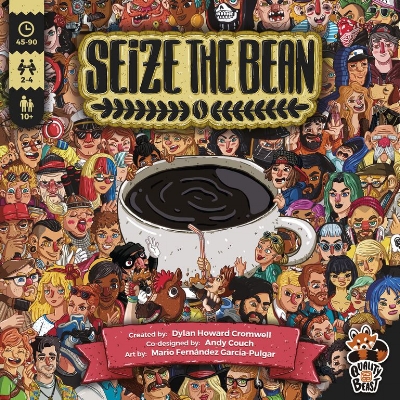 Maybe it's because I am a Hipster, maybe it is because I am in the coffee capital of the world, Seattle (challenge me on that). Seize the Bean from Quality Beast looks like a fantastic deck-building game with solid components. The art is fantastic and different from what is generally offered in the hobby. Can you become the best cafe in Berlin?
Funding Period: Jan 16 2018 - Feb 15 2018 (30 days)
Final Funds: €137,334 pledged of €20,000 goal
Backers: 3,038
It was another great month for Kickstarter games and the engine doesn't seem to be slowing. There are a lot of great games that are in the middle of their campaigns right now. March will be another hard top 5 pick, and I am not looking forward to the final top 5 of 2018! I didn't get the chance to back these great looking projects, but I hope you did! Were there any projects I missed? What were all the projects you backed? Let me know in the comments below!
Stay Foolish!
Chris